Hello Frienderinos,
Thought we'd take a moment to throw some updates/info/news yer way utilizing this unique communication medium.
PAST- Last week we played a couple of shows with Rock Plaza Central, both at TT's and in NYC. We had a great time at both shows. Here are some pics taken from the TT's show by Michael Epstein.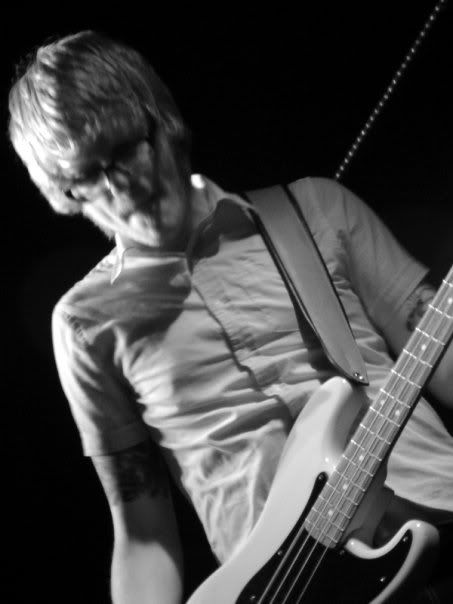 Also, we debuted a new song that is unrecorded but we are really stoked about. Luckily someone recorded the song.
You can check out for a full review/pics/video of the TT's show at
BOSTON BAND CRUSH
if you are trying to waste some time whilst at work, at home, or perhaps riding the bus.
PRESENT- we are gearing up for our show at the Paradise with Buffalo Tom that we could not be more stoked about. I personally have never played at the Paradise nor have I played with Buffalo Tom before, despite the fact this feat has been achieved prior to my arrival in the Band, this is kinda a proud moment for yours truly. I have heard through the grapevine that ticket presales have been going swimmingly, so you should try to nab some tix soon. A word of advice that I will pass along is that you can save some dough from add'l ticket fees by going to the paradise box office m-f. You can also order tix
HERE
.
.
Also, we are stoked to be part of UR Chicago's June Podcast. Our song The Sky (Or the Underground) is up there for your listening pleasure. Be sure to check out the podcast. I listened to some of it yesterday and heard some really great tunes from bands I had yet to hear. Be adventurous
FUTURE- As previously mentioned, we have been slowly but surely amassing some summer tour dates. Here is how it is shaping up so far.
June 26- The Paradise w/Buffalo Tom- Boston
July 14- The Space w/Cotton Jones- Portland, ME
July 15- Club Hell w/Cotton Jones- Providence
July 16- The Space w/Cotton Jones- Hamden, CT
July 17- Loft w/Gunfight- Brooklyn
Aug 8- Middle East (Downstairs) w/Drug Rug
I am particularly stoked to play in my home state in the city of Portland where I spent many years being youthful and mischievous. I look forward to hanging with friends and family, and maybe getting a little youthful and mischievous with all of you. We hope to be adding to the list as the summer comes upon us in all its sweaty glory. Stay tuned and be excellent to each other.
ERik + Mean Creek